June 28 – July 28, 2018
First Friday Opening Reception: July 6, 2018
Saturday Artists' Reception: July 14, 2018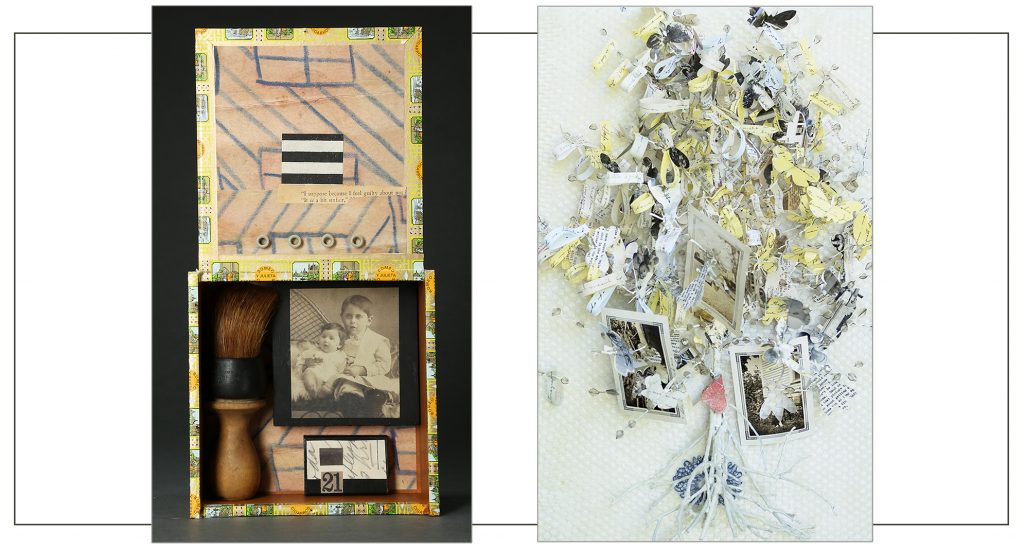 Marsha Balian and Joy Broom use ephemera and found objects to create evocative artworks suggesting narratives and personal histories. Juxtapositions of imagery and objects are guided by intuition and improvisation. The resulting works hint at stories and relationships which, albeit ambiguous, are indicative of a shared human experience.

Marsha Balian has exhibited throughout the Bay Area and in many parts of the country. Her work has appeared in Kolaj Magazine, The Permanente Journal, American Art Collector, Studio Visit, Gathering Cloud, a feature story in Scrubs magazine and, most recently, in Dada Centennial Day of the Dead from the museum of Collage, Assemblage & Construction and Oneiric Magazine published in Portugal. Her artwork was featured on the cover of the 2016 West Marin Review.

The work of Bay Area artist Joy Broom has been exhibited widely across the US, including the Oakland Museum's Collectors Gallery, the Triton Museum, the Bolinas Museum, Carnegie Art Center in Walla Walla, WA. She has been a recipient of the WESTAF/NEA Regional Fellowship for Visual Artists, named Berkeley Art Center's Artist of the Month, 2015, is a featured artist on The Studio Work art blog, and has had her work reviewed in numerous publications. A wall of her multiple chewing gum assemblage pieces is in the permanent collection of the diRosa Preserve in Napa. Her work is represented in numerous other private collections. Joy lives and works in Martinez, California.