2022 Juried Exhibition: In My Backyard
Jurors: Joyce Gordon and Eric Murphy, Joyce Gordon Gallery
August 19 - September 10, 2022
Opening Reception: Saturday, August 20, 1-4 pm; Juror's talk at 2pm

First Friday Closing Reception:
September 2, 5-8 pm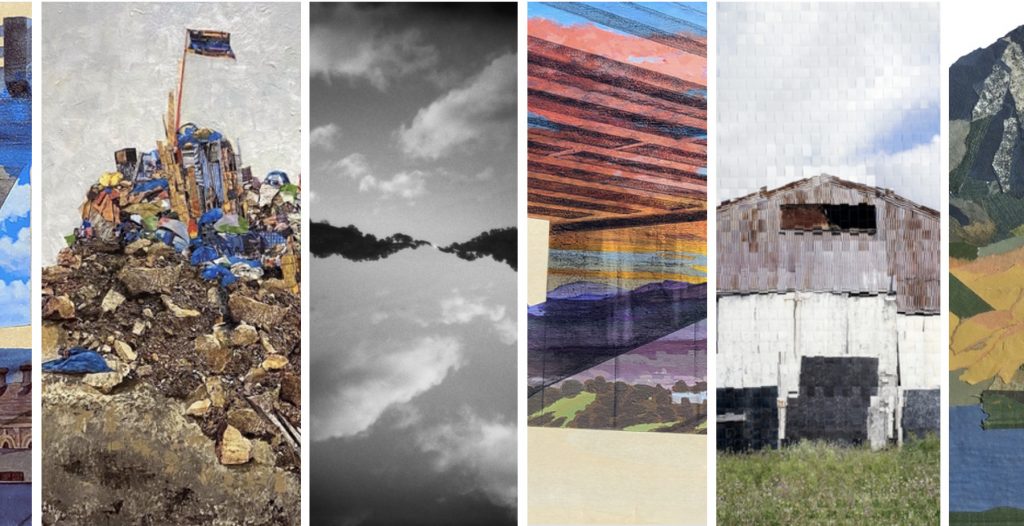 Norman Aragones, Dennis Ariza, Carol Aust, Sheldon Bachus, Debra Bibel, Nathaniel Bice, Janet Bogardus, Gina Borg, Amanda Breese, Belinda Chlouber, Harlan Crowder, Rohan DaCosta, Riti Dhesi, Gene Dominique, Niloufar Farzam, Ana Gadish-Linares, Julie Garner, J. M. Golding, Mundi Gove, Vicki Gunter, Luke Heimbigner, Jenna Hobbs, Christine Huhn, Sandra Kelch, Magnolia Lee, Eric Lendl, Steve Mainini, John McDonald, Kathleen McNutt-Hart, Sheila Metcalf Tobin, Jennifer Riggs, Abel Romero, Xioneida Ruiz, Anthony A. Russell, Artemis Laura Schatzkin, John Sheridan, Eliza Thomas, Toby Tover, Bette Trono, Yana Verba, Jan Watten 
Joyce Gordon Gallery statement by Juror, Eric Murphy:
The selection process focused on the literal and obvious backyard references first, of course nature and climate change fit in between. Then in the expressed version we often use, "It happened in our own backyard," as in being close to us in one capacity or another. Next, we moved further out to the social and political experience of what "happens in our own backyard." Other works are more about abstract interpretations of "In My Backyard" in a virtual sense or a place of mental comfort. Ultimately the selections are eclectic, intended to encompass the various interpretations of the theme.
In My Backyard refers to the area where you live, where you are, your domain, or a location very close to you. It could be as literal as the view out your window,or it could be an expression of your emotional state. As your backyard is an extension of your physical home so this backyard could be an extension of your spiritual self.
In My Backyard can also refer to a situation that you are directly involved in, next to, near and not faraway from, or responsible for. It could be something occurring closer to you than you had hoped, assumed, or thought. Things may happen there that we are unaware of or that need to be cleaned up."There is nothing quite delightfully mysterious as a secret in your own backyard."-Fantasy writer, Patrick Rothfuss
In the Wizard of Oz, Dorothy always wanted to go over the rainbow only to discover that there is no place like home."If I ever go looking for my heart's desire again, I won't look any further than my own backyard. Because if it isn't there, I never really lost it to begin with."-Noel Langley
Whether it be a place, an event, or a mental state, submit artwork that reflects your interpretation of what is "In my backyard"?