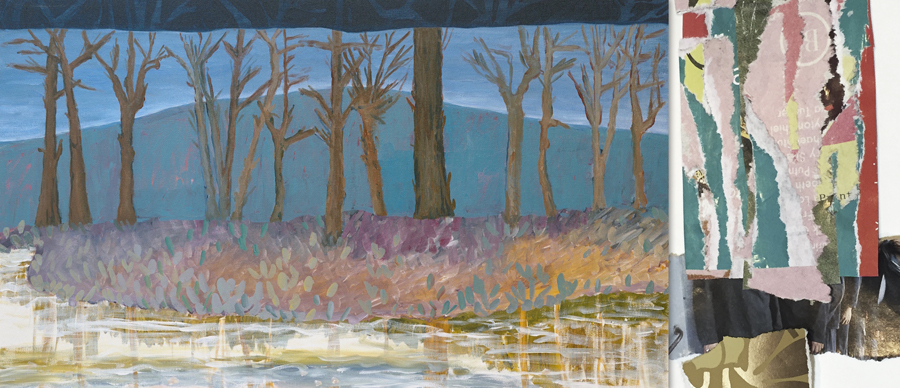 September 1 – October 1, 2016
Opening Reception: Friday, September 2nd from 6-9 pm

Keats' poem, titled Sailing To Byzantium is a poignant lament in which Byzantium is a symbol of loss – a lost civilization, the loss of the body in this world, the destination for the final transformation into something glorious and eternal. The works of both artists address beauty, longing and loss in a poetic and symbolic way. Janet Norris will exhibit a number of her paintings alongside TaVee McAllister Lee's esoteric, spare and lyrical collage installations.
---
Of her work, Janet Norris says "I have a yen for the kind of magic one experiences when confronted with mysterious places, whether real, or imagined, but especially the intimate spaces that are available to the excited mind. I lean toward the visionary, magical and reflective.
In recent work, my intent is to create a contrast of beauty and loss, in some work, using a split image composition to enhance that idea. I am thinking about traveling through our lifetimes, and suddenly reaching an end of a beautiful dream.
The poem, Sailing to Byzantium by Irish poet, William Butler Yeats, about losing his youth, was my reference for painting Rowing By Byzantium, about losing our civilization.
Although I suggest a narrative I don't complete it; I leave that to the viewer, as I don't want to convey certainties, or permanence, or conclusions. I want all to remain a mystery.
My experience with Zen Buddhism has led me to perceive that the human race lives within a stream, a continuous psychological, emotional, intellectual, as well as a physical mode of being; that awareness or philosophy is in the background of my making process even when I'm not thinking of it.
In a formal sense, I use color to embody beauty – I attempt to use my palette to make an emotional impact, so that the loss, if perceived, is more poignantly felt."
Exploring a wide range of colliding themes and imagery, the work of TaVee McAllister Lee appears as if it might just fall apart any moment and in so doing provokes a bit of anxiety that can feel a little painful. At the same time, the work is tougher than it looks, transforming/becoming something other than the thing it is, mostly paper that likely would have been destined for trash or landfill. Lee rips up what is known, well recognized and readily available, and reassembles it into something apparently fleeting, maybe improbable, and at its best beautiful when the light, shadow, image and form hover just there, just so.
Titled as poems or verses, Lee's pieces also deal in narrative without certainty, permanence or conclusions, oblique stories, disassembled or deconstructed or perhaps reconstituted or conflated with competing or extraneous images that generate new ideas or more precisely express an old idea or one that's difficult to explain. Viewers are left to conjure their own narratives from the bits of pattern and image or find them in the gaps between fragments of paper as they've been pinned to the wall.
This work takes time, it unfolds over time and occupies space that is not particularly contained in an easy way.